Trainer rides to the rescue
Lindemann is helping Suffolk horses avoid slaughterhouse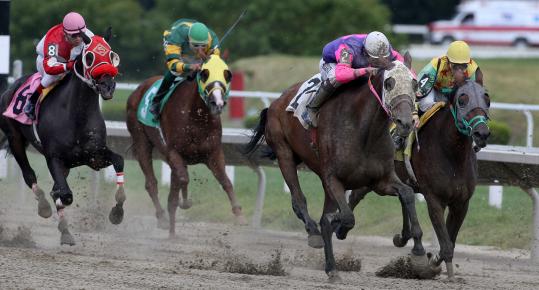 Thanks to Lorita Lindemann, Suffolk Downs has become the first thoroughbred track in the nation to implement a rule banning for life any trainer who sells a horse for slaughter. (Stan Grossfeld/Globe Staff)
By Stan Grossfeld
Globe Staff / September 17, 2008
    The Angel of Suffolk Downs is a gentle soul, always smiling, except when asked about the Killer.    
    Trainer Lorita Lindemann scowls when she describes the past practice of Suffolk Downs horses being loaded on trailers for the long journey to the slaughterhouse.
    She says she never called the meat buyer - the man who sells horses by the pound at auction - by his name. She simply called him the Killer.
    To his face.
"Now the Killer, you just look at him and know he's a bad guy," says Lindemann. "He's a grubby guy. He'd come through here and in a real cocky voice say, 'Whaddya got? Whaddya got for sale? I'll give you a hundred bucks.'
    "You have to be stupid not to know where your horse is going. Your horse isn't going on that trailer so somebody can have a nice riding horse in their backyard somewhere. It's going to slaughter and to wind up in a fancy restaurant in Paris."
    She says the Killer called her worse than what she called him. "He's probably called me every name in the book," she says. "I'm the first one to say something to him."
    In two decades at the track, Lindemann by her own account has rescued 100 horses from being slaughtered. When the truck came, she would grab horses and hide them. As a liaison for the Thoroughbred Retirement Foundation and the Communication Alliance to Network Thoroughbred Ex-Racehorses (CANTER) New England, she would help rescue horses and find them homes. She'd fill out the paperwork the horse owners didn't want to bother with. A horse advocate first, trainer second, she would tell owners when their horses risked injury by running and needed to find greener pastures.
    "She's pretty amazing," says Ellen O'Brien, executive director of CANTER New England. "Lorita is a godsend; we're lucky to have her. She's incredibly selfless. I can't tell you how many thousands of hours she's spent out of the goodness of her heart trying to assist these animals."
    In 1989, 342,877 horses were slaughtered in the United States, according to the US Department of Agriculture. In 2007, US slaughterhouses were shut down, but tens of thousands of horses are still exported to slaughterhouses in Canada and Mexico. One horse is slaughtered every five minutes, according to the Animal Welfare Institute.
    Horse meat is considered a delicacy in France, Italy, Switzerland, Belgium, and Japan.
    Some champions are retired to stud and live their lives in Kentucky bluegrass. Others become tourist attractions. Most are not. Ferdinand, the 1986 Kentucky Derby winner and Horse of the Year, died in a Japanese slaughterhouse in 2002.
    But no one will be eating low-level Suffolk Downs horses anymore. The East Boston track recently became the first in the nation to ban any trainer that allows horses to be sold for slaughter. That's a lifetime ban, zero tolerance.
    "It's about doing the right thing," says Sam Elliott, the Suffolk Downs vice president of racing who first dubbed Lindemann an angel. "The horses are the stars of the show, and I thought it's time to start treating them as such."
SHE TAKES IT PERSONALLY
    Lindemann says in the past her calls to save horses went unheeded. And though appearances by the Killer's truck dwindled considerably in the last 20 years, it was still allowed in the backstretch.
    Now the truck can't get past security.
    "We just told them they weren't welcome here anymore," says Elliott.
    New Suffolk Downs owner Richard Fields has given grants to both the TRF and CANTER to find homes for these retired athletes. Fields himself has adopted four Suffolk horses for his farm in Wyoming.
    Lindemann is thrilled.
    "This is the first year I've gotten any help," she says. "Anybody else who was at the track I couldn't get to. I mean, 'Who was I?' "
    She is a special person, according to David Sears, executive director of Watchtower Farms in Deerfield, N.H.
    "She probably cares more about horses than herself," says Sears. "She's the one person that would do anything to save a horse."
    Watchtower, a 6-year-old stallion Lindemann trained, was purchased by Sheikh Mohammed Bin Rashid Al Maktoum, the ruler of Dubai, a man worth $18 billion, according to Forbes Magazine. He is trying to obtain all 56 foals of the great Dubai Millennium, a sensational horse who won 9 of 10 starts, including the 2000 Dubai World Cup, but died prematurely.
    Lindemann coordinated every detail of Watchtower's retirement to the New England Thoroughbred Retirement Center, which cares for retired thoroughbreds and retrains some for adoption. Sears named her "Horseman of the Month" and renamed the center for Watchtower.
    "She probably spends as much time taking care of horses in danger as she does working with horses in the stable," says Sears.
    Lindemann takes no horse manure from slaughterhouse buyers because she was tricked by one as a child. Her very first horse, Federal Sin, wound up being sent to a slaughterhouse from Rockingham Park.
    "I can't believe as a kid I watched my own horse get on a truck thinking he's going to be fine," she says. "I finally realized what it's all about. It's unreal. I've watched tapes on it. It's just awful, it's so inhumane."
    The horse auctions are nearly as bad, she says.
    "Nine out of 10 thoroughbreds don't sell because of their injuries," she says. "Then they line them up behind the auction and truck them to Canada. Now they usually use double-deckers. They pigpile the horses in there, and they end up sustaining worse injuries."
    She says the horses are terrified.
    "Horses know absolutely everything," she says. "They are not dumb. Oh my God, they smell horror. They smell death. When horses have to be euthanized, it's unbelievable how they act. I think they talk in the middle of the night."
WORD SPREADS
    This Saturday, Hall of Fame trainer Nick Zito is bringing Commentator to race in the Massachusetts Handicap at Suffolk Downs as a show of support for the track's pro-horse stance, according to Elliott.
     Other tracks are considering the anti-slaughter ban. Penn National Race Course in Grantville, Pa., has already implemented a horse safety policy.
    And more changes are possible. The Prevention of Equine Cruelty Act of 2008, currently in committee on Capitol Hill, would make the exporting of horse meat intended for human consumption a criminal act. But powerful opponents charge that starvation and neglect are far worse fates. The livestock industry believes a ban would embolden animal right activists to go after the cattle and poultry industries.
    But Suffolk Downs's lifetime ban is an important first step, animal activists say.
    "I'm delighted they are keeping these vultures with false pretenses off the track," says Dr. Nick Dodman, cofounder of Veterinarians for Equine Welfare. "Other tracks should follow their lead.
    "I've seen the executions. The whole process disgusts me. In Canada, 70 percent of the time the stun guns are used improperly; the horse is flopping around like it's running on ice.
    "Following 'stunning,' they are suspended, some still conscious, and their throats are cut seconds before their lower limbs are amputated.
    "In Mexico, instead of using a stun gun, they stab the horses repeatedly into the spine with puntilla knives, rendering the poor creatures paraplegic before suspension and bleeding out. It's horrible."
    Lindemann says diners who think horse meat is healthier than other beef should beware.
    "These horses are on medications for racing, like bute [phenylbutazone]," says Lindemann. "They don't feed or water them on the trailers because they're trying to get the medications out of their systems. It's a delicacy, so they want the toxins out. It's really awful."
GOATS AND CATS WELCOME
    Stable 7 in the backstretch of Suffolk Downs is by no means heaven. The stables are ancient, and some of the wood has been nibbled away by nervous thoroughbreds.
    Lindemann, as always, has been working since before sunrise. She has just finished wrapping the legs of a 7-year-old named New York Cat who looks as if he's laughing.
    Lindemann is a softie. She has rescued an abandoned goat named Moose and gotten him shelter in a bunker just outside the stalls.
    "He keeps the horses calm," she says.
    She adopts every stray cat at the track and takes them to her New Hampshire home. The stable has posters all around it promoting horse retirement. "Give me your tired, your poor, your weary . . . " says one.
    It's a better atmosphere since the Killer can't come around anymore, she says.
    "These horses are my everything," she says. "Once I started, I couldn't stop."
Stan Grossfeld can be reached at
grossfeld@globe.com

© Copyright 2008 Globe Newspaper Company.